Goldfish Food Suggestions
This post has goldfish food brand suggestions referenced from this site:
Proper Goldfish Feeding
AquaMasters Goldfish Diet
is among the BEST goldfish diets available anywhere at any price with many Asian Breeders of high end fancy goldfish utilizing this goldfish feed.
Aqua Master Premium Goldfish Food is processed under strict quality inspection procedures by the largest food company, Uni-President Enterprises Corp (UPEC). The company has achieved ISO-9001/9002 Certification
Spirulina 20 flakes contain a full 20% Spirulina and provide a complete high protein diet for freshwater, goldfish and more.
Spirulina 20 for Goldfish
also has natural immune boosters as well by virtue of the high content of Spirulina Algae.
Sanyu Vital is a complete diet to provide all necessary nutrition for goldfish and koi with basically the same formula as Hikari, except at a lower price.
This food is formulated to meet the diet requirement for goldfish and koi. The raw material used is selected from vegetable based, high carbohydrates and less protein ingredients are easily digested. Feeding this food will result a rapid color enhancement. With various vitamins and minerals added ensure the fish stay healthy and vital.
Although this food contains soya meals (a poor source of protein in fish), it derives the majority of it's proteins from quality sources such as spirulina vegetable proteins and fish meal.
Sanyu Ingredients: Vegetable protein extract, fish meal, soya meals, rice bran, wheat flour, corn meal, carotenoid, lecithin, vegetable oil, vitamin A, C, E and important minerals and trace elements
Pro-Gold is a sinking pellet that includes Krill, Fish, Shrimp, Wheat, Spirulina and Alfalfa as the main ingredients.
Pro-Gold also includes a natural immuno-stimulant to stimulate the immune system and probiotics to support the good bacteria in your goldfish's intestinal track. Plus, all the essential vitamins and minerals to keep your fish healthy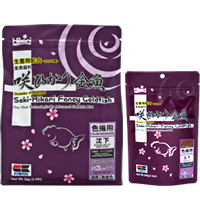 Saki-Hikari Color Enhancing Goldfish Diet is a health improving diet for all varieties of Premium Grade Goldfish to develop to their best potential! The inclusion of beneficial living microorganisms (Hikari-Germ) offers more complete assimilation, reduced waste, improved resistance to disease and increased growth rates.
Aqueon Golfish Granules
contain only natural ingredients and contain no artificial colors. The colors of the foods are attributed to the actual ingredients in the formula, and help to bring out the natural colors in your fish, while keeping them energetic and healthy. These granules are slow sinking and easy to digest.
Labels: AquaMaster, AquaMasters, AquaMasters Goldfish food, food, Goldfish diet, Goldfish foods, premium goldfish diet, Sanyu, Spirluina 20